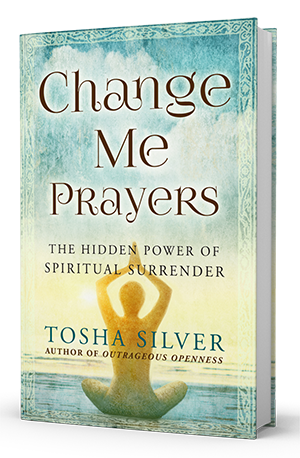 Change Me Prayers
From the author of the life-changing book Outrageous Openness: Letting the Divine Take the Lead, a thoughtful collection of prayers and stories to help you actively invite the Divine into your life.
"Change me Divine Beloved into One who can give and receive freely and be a clear vessel for Your Light."
In this sequel to her first book, Tosha Silver, with her characteristic mix of passion and humor, shows how to embrace transformation from the inside out. Covering a variety of topics—from work and finances to love and self-worth—Change Me Prayers shows how to truly surrender to a Divine plan in the most joyous and uplifting way.
At its heart, this book is a spiritual guide to help anyone open to this union with Love, even in times of difficulty or crisis, and includes a convenient "Change Me Prayers Quick Guide." Tosha proves to be a profound, unique, and often hilarious guide to awakening. May the Divine permeate every part of your life!
Tosha on "Change Me Prayers."
Early Praise for "Change Me Prayers."
In this exquisitely written and humble book Tosha reminds us that we are not alone and that surrendering to the Holiness at the Heart of the World may take us further towards our goals of service than workshops, teachers and personal effort. A wise and beautiful reminder of the compassion of the Universe for all beings and the power of an ancient approach to becoming exactly the person who is needed.
– Rachel Naomi Remen, M.D., New York Times bestselling author of Kitchen Table Wisdom, My Grandfather's Blessings
Outrageous Openness is one of my favorite books of all time, and I've recommended it to more people than I can count. This long awaited sequel hits the same sweet spot of entertainment and profound spiritual learning.
– Marci Shimoff, New York Times bestselling author of Happy for No Reason, Love for No Reason
Change Me Prayers has, quite frankly, changed my life. I have learned what spiritual surrender really is. This potent path of love and guidance has helped me recover from grief, pain, and loss while opening me more fully to the joy and delight of life.
– Christiane Northrup, M.D., New York Times bestselling author of Goddesses Never Age: The Secret Prescription for Radiance, Joy, and Wellbeing

Her prayers let our connection to the divine be intimate & immediate, so we can experience divine love when we need to most- right in the midst of our everyday panic & dread, right when we might shut down, love reaches farther instead.
– Meggan Watterson, REVEAL: A Sacred Manual For Getting Spiritually Naked

Tosha's roaring authenticity, heart blooming often hilarious real-world wisdom, and illuminating life-changing prayers make this book a treasure trove of truth. Give it up for the Divine Beloved and dare to be changed from the inside out.
– Sera Beak, author of Red Hot and Holy

An answer to your prayers! Change Me Prayers is trademark Tosha: quirky, inspiring, funny, poignant, helpful and beautifully written. Thank you Tosha for this fabulous follow-up to Outrageous Openness.
– Robert Holden Ph.D., author of Holy Shift! and Happiness Now!

Delectably divine, Change Me Prayers works for anyone willing and wise enough to stop working in ways that haven't worked before- or maybe ever. Reading and experiencing these irreverent, uncommon stories and prayers will brilliantly guide you in becoming, and being NEW.
– SARK Artist, Author, Succulent Wild Woman PlanetSARK.com
---
Share this Product