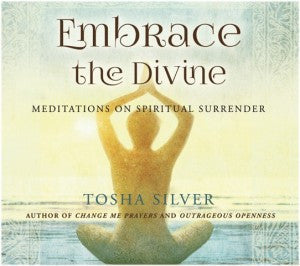 Embrace the Divine - Hardcopy or Digital
For years people have been asking me to put together a selection of some of my meditations, and now we've done it!
Meditation played a big part in how I came to fall in love with the Divine in my own heart. Anyone intensely motivated can do the same. To me, everyone is a spark of Divinity, of Love Itself. Most of us just forget.
Back when I spent half my life giving intuitive readings to folks around the world, I saw how most people chased the answers on the outside. I came to know that we have to focus the lens within, where Love runs through our veins.
When you no longer view the Universe as an ATM, a slot machine, or a shopping mall, it becomes your willing and waiting Lover.
I hope these meditations will help you see Divinity fully alive and present within yourself…and everything else. 
The Download includes an introduction and eight meditations totaling approximately 75 mintues in length. Track tiles are:
1. Introduction
2. Metta Meditation
3. Inner Crown
4. Reclaiming Your Projection
5. Inner Love
6. Radiant Gemstone
7. Inner Stamba
8. Waterfall
9. Hear Your Inner Self
---
Share this Product