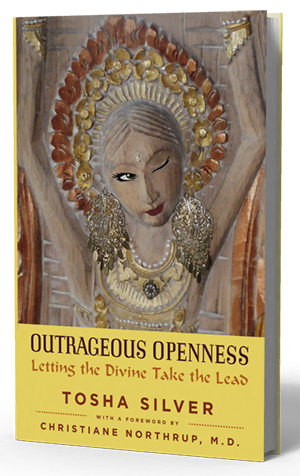 Outrageous Openness
A compilation of funny, irreverently reverent stories on aligning with the Divine in daily life. It's written for the passionately spiritual and bemusedly skeptical alike.
I know without doubt that a Force of Love exists that can guide, help and interact with each of us in the most intimate and practical way no matter what the conditions.
If only we know how to invite It in.
This book will tell you how.
My overriding passion for inviting and dancing with this Force eventually gave birth to "Outrageous Openness".
Praise for Outrageous Openness:

This book will change your life. I refer to it regularly.
– Christiane Northrup, MD New York Times bestselling author of Women's Bodies, Women's Wisdom

If Amy Sedaris wrote obsessively about the Divine, this is what she might sound like. What a treat.
– Darren Main author of Yoga and the Path of the Urban Mystic and Inner Tranquility

A fun, fresh spiritual tune-up. Reading it is a like taking a bicycle ride or sitting by the stream and suddenly feeling like everything is just deliciously okay. Tosha Silver has a beautiful, believable, honest voice, and she is a delightful companion.
– Tama Kieves best-selling author of Inspired & Unstoppable: Wildly Succeeding in Your Life's Work!

One of the best books we"ve ever read! My wife Hollie and I are huge fans of Tosha Silver. She delivers inspiration on every page!
– Robert Holden author of Holy Shift!

In a marketplace filled with lackluster spirituality books, this book sparkles with truth. Through touching personal stories, potent insights and holy humor, Tosha Silver reminds us that the only way to truly live is hand in hand, heart to heart, and hip bump to hip bump with the Divine.
– Sera Beak author of Red Hot and Holy: A Heretic's Love Story

Tosha Silver's benevolent, heart expanding book will transform you mightily with the greatest of ease.
– SARK, Artist, Author, Succulent Wild Woman PlanetSARK.com

This book offers readers a highly unusual gift – a way to release the exhausting pursuit of the ego's wishes and dreams, a path to living with joy, peace and contentment. Start down that path and miracles begin to happen beyond anything you could have predicted!
– Marci Shimoff, #1 New York Times bestselling author of Happy For No Reason, Love For No Reason

The holy grail is right here in this gem of a book. Tosha Silver's wisdom goes down as easy as a mint milkshake and leaves you feeling so free you'll want to do cartwheels on the beach. But don't be fooled by the simplicity of this message. Look no further for an easeful path to enlightenment infused with rapture and hope, which comes as much needed medicine for the soul.
– Lissa Rankin, M.D., New York Times bestselling author of Mind Over Medicine

Tosha Silver is an empathetic guide along the ever-present seam between the everyday and the sacred, letting us know that we can pull a thread of aliveness for ourselves at any time.
– Mark Nepo, author of The Endless Practice and Seven Thousand Ways to Listen

The stories are laid out like a collection of essential oils, each gently awakening us with aromatic beauty to the presence of the Divine in every aspect of our being.
– Ana Landis Velazquez, Artist

This wonderful book stands out in stark contrast to the pretentious and stale formats we often find in this genre. It shines as a profound yet funny and down to earth expression of how to live in harmony with your own inner Divinity.
– Henrietta T., NY, NY
---
Share this Product